Over the last 100 days we've been building, experimenting, and evolving what it means to create a mission-led decentralised community, so thought we'd share some of our learnings.
---
Protein Community connects the dots between our Discord, our monthly newsletter, our workspace and events space and our brand consultancy. Since launching our $PRTN token in September 2021, we've onboarded 200 members to collaboratively define and update our Good Growth mission, asked some tough questions, hosted a bunch of live events, and build some fun bots along the way.
Please note: This is not meant to be a definitive guide, as we're still continuously iterating, but hope it might help you and your community's journey 👍
---
Our 12 discoveries …
1. Creating barriers is important
2. Your onboarding experience is everything
3. Intentionality and diversity beats expertise
4. Ask the tough questions
5. Be explicit about your call to adventure, compensation, and reward regularly
6. Build it if it doesn't exist yet
7. From generalists to specialists
8. Proposals shouldn't pass with 100%
9. Ethereum isn't for everyone
10. Include your community in conversations about funding
11. Our Stack
12. Some closing thoughts …
---
1. Creating barriers is important
When we started out, our focus was to create membership criteria based on values, not money - something which led us to airdrop our Founding Members 20,000 $PRTN each. In this process, we paid the gas fees as they aligned with our Good Growth mission of accessibility.
What we learned:
On reflection, this initial airdrop mechanic didn't create enough skin in the game for this initial group, resulting in 50% inactivity. Whether your community is open or tokenised, focus on compounding the social capital invested by members with a suitable ownership incentive. For example:
Facilitate initial engagement through minimal viable participation i.e. running workshops, events, and town halls, then only airdropping those first contributors or attendees

Create a claims-based airdrop, meaning potential members have to pay their own 'gas' in order to claim their membership

Create fellowships, scholarships, or earn to access initiatives

Create Guest Pass memberships instead of airdropping tokens to those you want in the community but likely won't engage; e.g investors, other DAO leaders, and surveyors… this means all ownership is distributed to those who are active.
---
2. Your onboarding experience is everything
There's a real art to creating an accessible, inclusive, and scalable members' onboarding experience. So, you're going to spend more time than you think working out who you want in your community, how you get them in, and what you do once they're there!
What we learned:
Onboard members frequently to avoid bulk processing membership applications (we had 674 in Season 1 😬) as it also helps keep the vibes alive and stops people to ask 'wen access?' that puts extra pressure on everyone

Create a screening matrix aligned with your values of members who fit the criteria, as it helps when others are reviewing applications

Publicly share your membership criteria, code of conduct, onboarding process, and approval frequency prior to members applying

Make reviewing new members a priority and reward those who step up to help

Create public FAQs and web3 education pieces so obvious questions are answered easily

Make sure you ask for people's Discord handles (incl. their #1234!) and ETH addresses in your application form and put a disclaimer for members not to change these

Build an internal membership directory and/or Discord workflow, so you can review your community demographics

Include a CAPTCHA to protect against bots 👾
---
3. Intentionality and diversity beats expertise
In the web3 space, bandwidth is key. When we started we filled PRTN with too many builders from other communities, not fully understanding the time and energy required to meaningfully contribute to a DAO. We also massively underestimated the lack of diversity in Web3, so have now prioritised both Intentionality and diversity when it comes to membership.
What we learned:
Make it easy for new members to say how much time they can contribute, as well as find the tasks or bounties that need doing

Invite members to self-identify using Discord emoji → role assignment bots

Set up an independent DEI (Diversity, Equity, and Inclusivity) team to ensure best practices are defined and maintained

Regularly review your community demographics and focus on areas that are lacking

Be proactively equitable by openly collaborating with other relevant communities
---
4. Ask the tough questions
When you start anything new, you have more questions than you do answers. We went one stage further to create a safe space in the form of a #tough-questions channel for our members to ask the questions that are going to affect us all; in the hope, that through discussion, we understand them and might get a chance to answer some of them.
What we learned:
Create a dedicated space for your members to openly share and discuss "big" questions. These could relate to your mission, your values, or the world at large

Create actionable next steps or specific follow-up events in the form of dedicated working groups or live forum spaces

Create a role for those to lead these teams with lived experiences, rather than just objective voices
---
5. Be explicit about your needs and reward regularly
In the early stages, you're likely to still be figuring out the right incentive structure for your community. Over our last 100 days, we've approached this in a number of ways;
In Pre-season; we airdropped tokens for engagement in tasks (e.g being part of workshops, or giving advice to the core team e.g 1 workshop = 1,000 $PRTN)

In Season 1; we allocated a fixed 80,000 $PRTN to 5 working groups, using coordinape for decentralised distribution and retroactively we adjusted this based on participation. We also created a #bounties channel with payment in both $PRTN and fiat

In the future; we're creating a full compensation framework to reflect project, skill, and timeframes
What we learned:
Make sure you've got a clear call to adventure and your working groups know what is expected from them

Create an onboarding journey that ends in an easy actionable task or minimal viable participation - ours contributing links to our monthly Protein Supplement

Proposals in working groups can lose momentum, so encourage members to create their own sub-team to their proposals and allocate a budget to them or be prepared for the core team to help with their vision

Create a contribution framework, where members can easily see expectations, roles, and time required to get involved

Expect drop off within a group and create a funnel for new members to join in case of contributor churn

Coordinape only works for working groups with high subjective value creation and experimentation, smaller working groups will require bounties or agreed tasks

Make sure you schedule your compensation drops regular for increased engagement
---
6. From generalists to specialists
Being part of an early-stage community requires you to be a jack of all trades. However, as you grow, so too does your team along with each member's roles and specificity. We define the PRTN core team as long-term horizontal responsibility across multiple areas of the community with a monthly stable coin payment and a vested token schedule for compensation. And our core contributors as recognised and trusted members with a vertical specialty and ongoing token compensation based on role e.g. team lead, advisor etc.
What we learned:
Aim for your core team to spend 70% of the time on community building and 30% on community engagement

Create space for members to step up and hold your nerve on completing tasks that others could to gain ownership

Facilitate and instigate rather than dictate
---
7. Build it if it doesn't exist yet
Remember, we're still early in the Web3 lifecycle, so a lot of tools don't exist yet. We've always had a product-centric viewpoint and are fortunate to have some great dev in PRTN, so have/are spinning up a number of projects.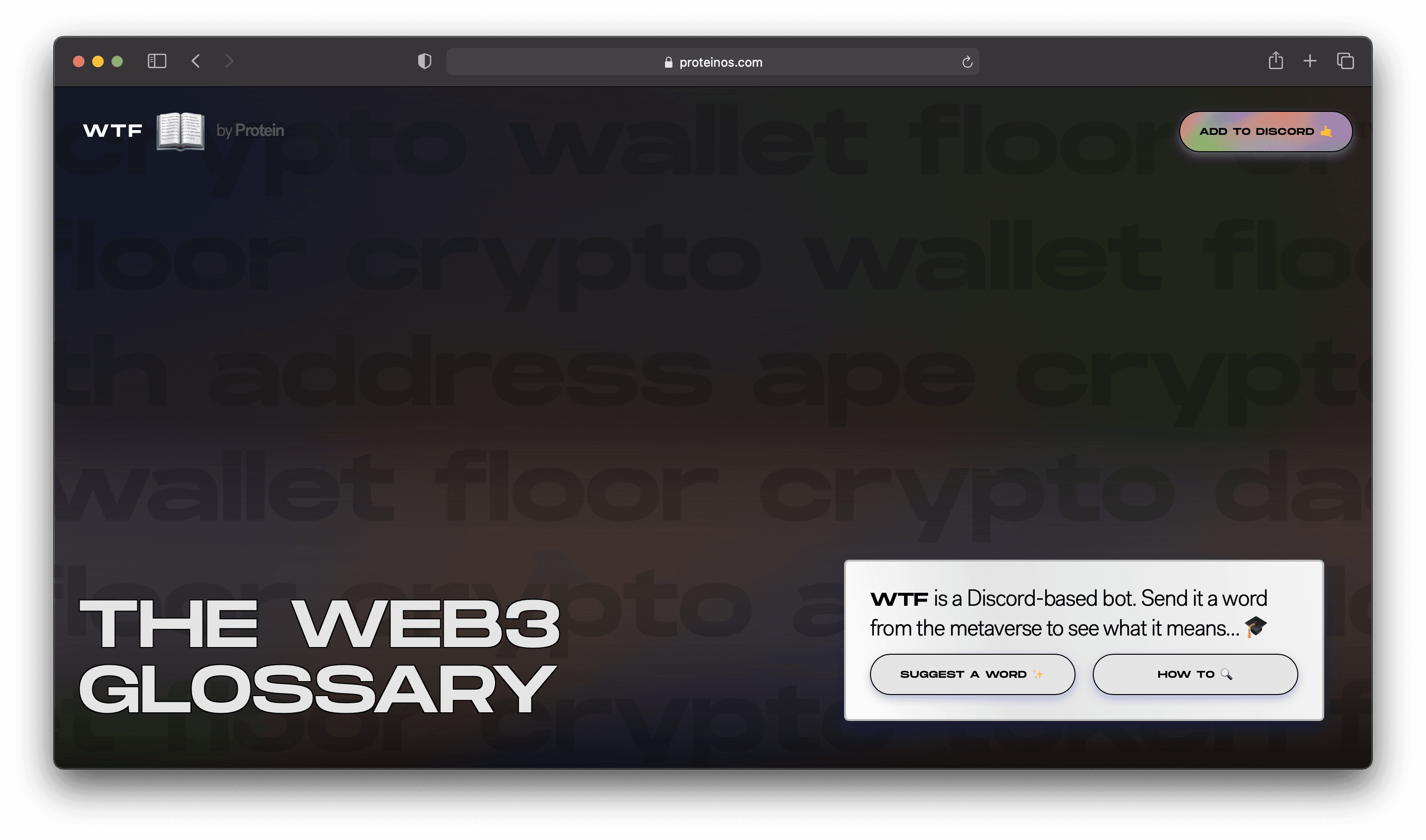 WTF Bot - now running on 60+ servers integrated with the Crypto Lexicon

NFT Guest Passes - invite-only on-chain pass that gives you 30 days of full access to the PRTN Community

GM Bot - a fun Discord bot that automatically adds an 🌞 emoji when you type "gm" or bd"

Membership Moderator - a simple emoji traffic light to approve or decline membership applications

Newsletter Generator - soon™

DAO 2 DAO Bridge - soon™

Colour Timezone Clock - soon™
What we learned:
If you have the inclination to build your own, make sure you set out a clear "product story" to define exactly the problem you're looking to solve

For Discord bots, check places like Top.gg before you start as it's likely someone else has made just what you're looking for

Good devs are expensive and busy but might reduce their fee if they can be credited and/or the code be open sourced
---
8. Proposals shouldn't pass with 100%
Community-voted proposals are key to getting things done in a decentralised community. For Protein, the core team started with the same amount of $PRTN tokens as our members, as an intentional decision to weigh voting rights more evenly. However, not all decisions need to be proposals, so create a decision framework/matrix for which decisions require proposals and who has to be involved e.g. this decision needs treasury and memberships eyes on.
What we learned:
Promote healthy discussion on your proposals, we've now come to believe that passing with 100% is a bug, not a feature

Design by objection not committee

Slide into DM's and remind people publicly to on vote deadlines for proposals

Don't just default to 1 token = 1 vote, explore cooperative models or quadratic voting
---
9. Ethereum isn't for everyone
Maybe controversial to the maxis, but we're seeing more and more communities launching on other chains, as distributing your tokens on ETH mainnet is expensive and can inhibit your ability and efficiently reward members. If you're still planning your launch, explore alternative chains with lower costs and better environmental impact like Polygon, Solana, or Celo.
What we learned:
Airdopping on ETH mainnet will either cost the community treasury or the members when claiming, so inclusive access is off the table

If you're staying with ERC20s, Gnosis CSV is the cheapest and easiest way of batch airdropping option

Migrate a % of your token over to Polygon (or similar) for easier and more cost-efficient distribution
---
10. Always be prepared to talk about money
At some point in your journey, it's likely you will want/need to raise some capital. Communities do this usually through NFT sales, token sales, or a combination of both. We closed a small pre-seed round last December from a handful of individuals.
What we learned:
Include your community as early as possible in funding conversations by hosting Town Halls and setting up #temp-channels

IRL events and conferences are good places to meet and build relationships with potential investors (thanks Liscon 💚)

If they are able, allow Community members to participate in your initial funding round themselves, so they can share in the upside

Showcase your investors, these will become important token holders

Explore voting delegation if you're concerned investors will destabilise community decisions

Seek legal and tax advice from numerous sources and ensure you do your own research on the "correct" legal structure and paperwork
---
11. Our Stack
---
12. Some final bits …
Don't create more channels or events than you need - in the early stages members will overlap so don't stretch them too thin

Be vocal about logging in and out - create healthy boundaries for activity in your community that are inclusive of timezones

Don't scale too fast - test and iterate as you grow, something that works at 100 members won't work at 1,000 or 10,000
---
If you've made it to the end, well done 🎉 We're big believers in building in the open, so hopefully this has been useful and if you have any questions, join our Discord or drop us a message on Twitter.
Big Love,
Protein 💚