This post dives into our evolved approach and refined mission as we cruise through Season 2. But first, here's a quick round-up of what our community has been up to:
reflected on our first 100 Days a DAO
refined our definition of Good Growth (see below)
developed a new approach based on the Transformational Capital methodology
hosted a bunch of fun events in our Discord
had 38 AMAZING project submissions from PRTN members
voted on a single transformational mission for Season 2
selected 3 pilot projects to support (more on that in the next post …)
---
Evolving Good Growth
We started bringing Good Growth to life with 12 values that came out of the pre-season working group sessions. Our brief was to define a framework that included metrics, a scoresheet, and an impact report, but we quickly realised that it needed to be more than a web3 BCorp.
We want to create a thesis for supporting projects that focus on intentional impact rather than superficial accreditations
To realise this, we had to establish what our own priorities were as a community, and place our own decision-making framework in the context of this worldview; based on a belief that web3 can ensure what is next is better than what has come before:
To focus on regenerative projects that contribute to culture
To support projects in "capitalisms blind spot"
To ensure projects get a foothold in the future through engaging in web3
---
Transformational Capital
We landed on a methodology, adapting and developing core ideas from Transformational Capital - a deeply aligned impact investment methodology. In broad terms, this involves constant sensing of the landscape to identify areas where small nudges can lead to big results; supporting synergistic projects and collaborating with other actors and investors to achieve the outcomes of the mission we support. Unlike other approaches to deploying capital, it recognises that projects do not operate in isolation but are nested in existing communities of impact and can contribute to each other's success.
Each Season we will focus all our collective resources towards one transformational mission
For us, this approach directs our focus towards becoming facilitators instead of a service provider and helping our community deploy their extensive skills within the wider Protein ecosystem to bring projects to life.
We've been tracking the intersection of technology and culture since the late 90's through our Protein Supplement and Protein Reports and now using this collective understanding as the basis for identifying places for impact to create desired futures.
Our community have voted to bring the much loved Protein Journal as a means to document our journey and showcase the people and ideas we are helping to grow. This means that learnings will be applicable across a range of projects, resources may be pooled, and, where possible the projects will all be pushing at the same leverage point, from different angles.
While we recognise that root causes matter, we see this as an opportunity to create fertile soil to nurture seeds in a new cultural operating system, rather than focus on the iniquities of the old legacy system.
---
Refined Focus
Throughout our off-season in January, we developed and refined our Good Growth values them into 3 core areas; and created a comparative scale to help any member or project looking to apply them push in the right direction: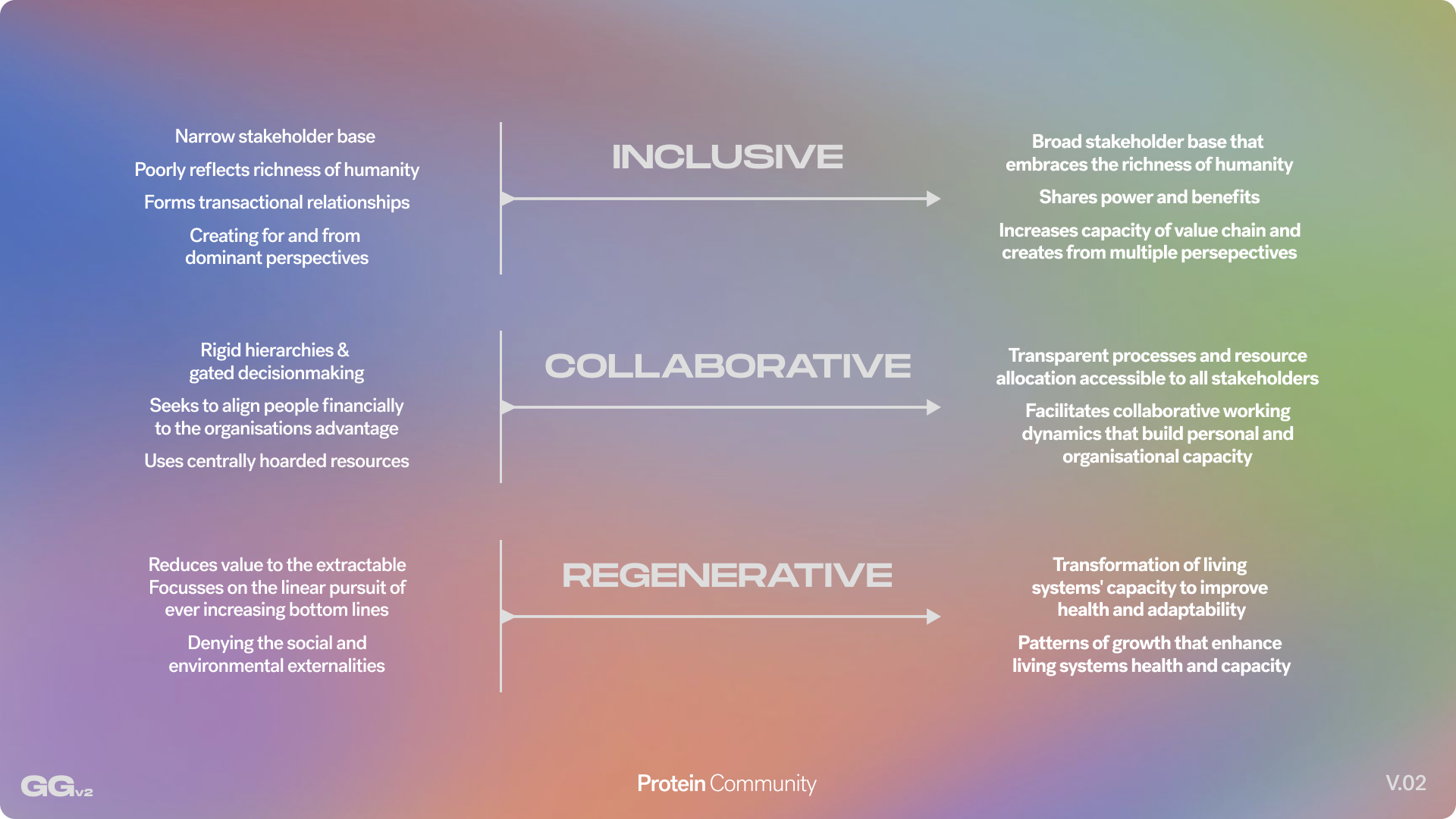 1. INCLUSIVE
Striving to find, integrate and facilitate participation of people regardless of background, recognising and addressing specific barriers in this process. Acknowledging the interconnections that make everybody a stakeholder and the nestedness that success builds on involves considering and engaging people up and down the value chain and across the network.
2. COLLABORATIVE
Build structures that facilitate collaboration, transparent processes and resource allocation while serving the development of stakeholder and organisational capacities, capabilities and agency.
3. REGENERATIVE
Be part of the development of the capacity for living systems, human and natural, to draw on their particular essence to restore and evolve to improve the health and adaptability of living systems.
---
Conclusion
As we grow and evolve, our collective understanding of Good Growth will also evolve. We're already looking forward to what this may look like in the future, what it means to be regenerative across all the capitals that form a part of our world and social activity, and engage with anyone who shares our goal for redefining growth … so please apply or get in touch if you'd like to join our mission!